Talent-Battle.
Time: 13:30 -16:30, August 25 (Friday)
Venue: 花园饭店, 上海市茂名南路58号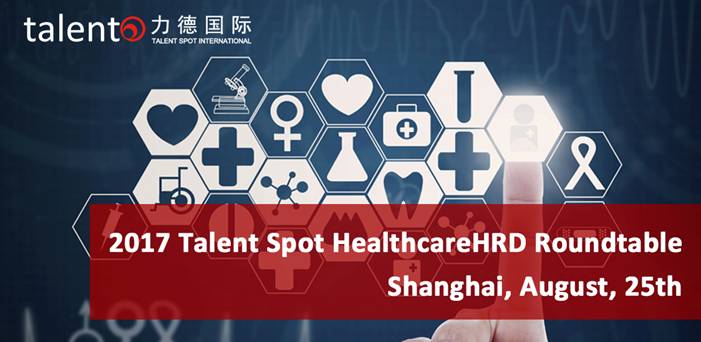 Talent Spot is pleased to invite you to attend our 1st Greater China Healthcare HRD Roundtable event hold in Shanghai, China on August 25, Friday from 2-4:30pm, a presentation & networking event for CHRO/HRVP/HRD and HR management executives on the topic of In the AI world, How to Win the Talent Battle in the Healthcare Industry? 人工智能时代,如何打好医疗行业人才战?
As a successful HR event hold for almost two years, Talent Spot HRD Roundtable Series Event has built its reputation and influence in China's leading MNCs' HR community. This event is aimed to build up a good platform where HR professionals and executives in healthcare industry can share the best HR practices, communicate the latest HR management trend and insights, also broaden their exposure and networks.
Highlights:
- How can HR quickly respond to the developing and retention of talents in the AI world
- How to enhance HR Management efficiently and avoid talent losing under the easing of medical policy
- How to successfully acquire front-end talents in the industrial transformation
- RPO best practice to the emergent talent market
About Speaker:
Justin Luan is the Vice President of Columbia China responsible for human resource.

Justin has more than 16 years of experience in human resources gained from leading multinational and JV organizations, across a range of industry sectors including retail, professional services, trading and investment. Prior to joining Columbia, Justin served as head of human resources for International Markets Division at Fosun Group.

Justin has an MBA from the University of Hong Kong.
Confirmed Delegates:
Boehringer Ingelheim | Thermofisher | MSD China | Eli Lilly | Roche Pharmaceutical | Johnson & Johnson Medical | IMS Health | CBMG | Shanghai East International Medical Center | Bracco Sine | Bio-Rad Laboratories | Shanghai Hutchison Pharmaceuticals | Shanghai Suntec Medical Center |Allergan | Shanghai RAAS
Agenda:
1:30-2:00 Registration & Networking
2:00-2:20 Welcome keynote & Icebreaking
2:20-3:10 Keynote Speech: In the AI world, How to Win the Talent Battle in the Healthcare Industry?
(Speaker: Justin Luan, HR VP, Columbia China)
3:10-3:30 Tea Break & Networking
3:30-4:30 Round Table Discussions
4:30 Event Conclude
How to RSVP:
Considering the popularity of our event and very limited seats, if you are interested in attending this great event, please RSVP ASAP by return your Name, Company, Title, and Cell number to cherryqiu@talent-spot.com.cn. Or if you have any questions about this event, please feel free to contact us by calling 13701736933.
Please kindly note that this HR event is only open to CHRO/HRVP/HRD Head in Healthcare/Hospital/Pharma/Medical Device Industry.
About Talent Spot International
Talent Spot International, the winner of Best HR Service Provider Greater China 2016-2017, is an one stop HR solution provider. Through the headquarter in Shanghai, Talent Spot has 6 branch offices in Asia Pacific Region includes Singapore, Hong Kong, Taiwan, Japan, Korea, Thailand and Vietnam, and more than 40 branch offices across China. Our branch offices provide HR solutions such as contract outsourcing, temporary/contract staff dispatch, HR & payroll outsourcing, business process outsourcing, engineering & maintenance outsourcing, recruitment process outsourcing, on-site management recruitment, and executive search and selection to multinational companies across China as well as Asia Pacific.
Some of Our Past Event's Pictures

The Venue: Okura Garden Hotel Shanghai